#85 Mark King
Driver – Mark King
Enjoying the first full season in 2013 with Bob and Sharon of Whiteline Racing was really all about getting a good understanding of the car and constantly doing little improvements after consultation with the "Birdman". It's been a great opportunity to be part of such a well equipped team with great team spirit and comradery and confirming this with winning the best team award for the year. During the year we did improve both cars in the chassis and for me better understanding as to how it likes to be driven with appreciated coaching tips from team mate Andrew. Over the end of year break the engine was overhauled with some extra porting on the heads carried out giving more power gains with lots of chassis and body repairs by Birdman and ready for the new year.
Reflecting back over the 2014 year, we hit the ground running the upgrades, hard work and changes by the team proved to be worth every effort as the car was so much faster, giving us our first outright race wins at Adelaide and Darwin, Pro am wins in five rounds and finishing 2nd in two rounds taking out the Pro Am championship. The Team the car all performed so well with great results, but most importantly I do need to thank so many of our team members who volunteer so much of their own time, Jason, Paulie,Tim and Brenton and to Shaz, Bob, Mark for your tireless work and my team mate Andrew, thank you.
King's career includes two Australian GT Performance Championships, along with success and vast experience from unique categories including Australian NASCAR, and of course, his time with the Touring Car Masters since his debut in 2010.
Having been on both sides of the manufacturer fence in the classic series, starting with Phil Morris Racing in an iconic XA GT Falcon, before joining Waddington Racing in their pristine HQ GTS this season, King is now looking forward to continuing his racing relationship with the GM brand, with a strong race package and strong team guiding him through the remainder of the season, saying,
"This is a wonderful opportunity to join Bob (Middleton), Sharon (Middleton), Andrew (Miedecke) and the Whiteline Transport Racing team. I'm hoping that with my little bit of input from the suspension industry, along with race setups and seat time, I'll be able to add to what is already a quality outfit with great prospects ahead in this series.
"I'm excited to be a part of this crew for the rest of the season – alongside Andrew (Miedecke) is one of the best seats available so it should make for a great year for both of the Whiteline Camaros. Both cars are well and truly sorted, and the team second to none, so we're looking to turn up at Ipswich and use the practice sessions to get the seat position right, then get on with it."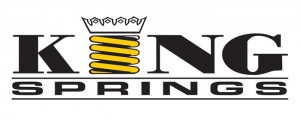 It had been more than twenty years in between jaunts on the red side for the King Springs Managing Director before his return with Waddington Racing. While the small team had seen many challenges, it's a passionate and committed crew, the team working hard to overcome early mechanical dramas during the last round, to see King come through the field from rear of grid to secure two top ten finishes.
While disappointed to be leaving mates, the opportunity with Whiteline Transport Racing will keep King as one to watch in the series, a fact new team owner Bob Middleton is more than excited about, explaining,
"This new lineup will be great for the team, and great for WesTrac as we look to get both of our Camaros to the head of the field. Mark is a welcome addition who will be capable of taking the #85 to its limits.
"We knew there was more in the car and while I enjoy the driving, I'm really passionate about heading the team and supporting the guys doing the laps in the cars. We want results, and with our team now having Mark's knowledge of suspension, gearing and diff ratios, on track knowledge, along with his professionalism and valuable feedback, we know that we'll have a really strong lineup who can support each other to work for team success.
"Mark and I had time racing back in the NASCAR days so it's, in a sense, a reunion and a new opportunity. He's had great results across his career, and we've got a race package that suits him, so we're all excited to have him on board and looking forward to his first event with us at his home track."
The Whiteline Transport Racing Camaros will be on track for Round 4 of the Touring Car Masters at Queensland Raceway from August 3 to 5. The Touring Car Masters is proudly supported by Shannons Insurance, Rare Spares, Unique Cars Magazine and the 2012 Australian Muscle Car Masters, with official suppliers Hoosier Tires and Australian Sports Marketing.
Mark would like to thank King Springs for there Personal Sponsorship.